August 19, 2014 3:26 pm - No Comments
This past weekend the kids and I took a trip with my parents, brother, sister, brother in law, nieces and nephews to Myrtle Beach, SC. We had lots of fun and took lots of photos. The not so fun part of the trip was having a hotel room on the 8th floor. I am really afraid of heights, so stepping out onto the balcony was a big challenge for me.
I spent most of my time there on the beach. Usually when I visit Myrtle Beach I spend 20 min on the beach and the rest of the time swimming at the hotel pool, shopping and walking around downtown. I didn't even see downtown this time. I only shopped at two stores. Well the flea market and an Eagles.
One of the main reasons for going to the beach other than to have a good time is to have a photoshoot with the six kids. That was very hard to accomplish since only half of them wanted to cooperate. Here is the best photos from that:
And we had to get one with the kids holding hands and jumping in the air.
August 12, 2014 3:18 pm - Comments (9)
This post brought to you by Provost Academy. The content and opinions expressed below are that of Tonaka.net.
Have you ever wanted to attend school online? Think that going to school online will cause you to have a lack of social interaction and relationships? At Provost Academy they believe that relationships are just as important as academics.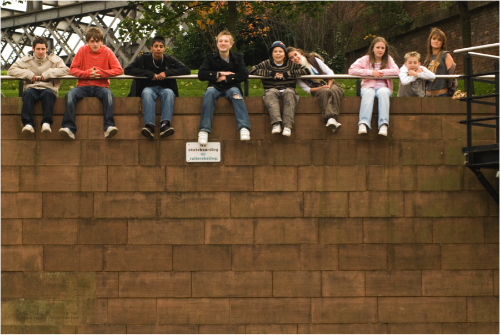 Provost Academy connects students with other students who have the same aspirations, goals, dreams and similar plans for the future. This helps each student to support and be an inspiration to one another. Teachers, advisors, and administrators work hard to have one on one relationships with each student. All work hard to provide an inspired learning experience for each individual student. Teachers challenge each student to go beyond what is possible. Not only do they care about the outcome, they care about the entire learning process as well. Students are encouraged to seek out professionals in their career field. They can engage and learn from those professionals in order to help them succeed. 
Provost Academy is an accredited school. Their diplomas are real and recognized by colleges and the military. There is no cost to attend the school since they are a public school. Provost Academy serves Colorado, Ohio, Georgia and South Carolina. In South Carolina Provost Academy serves grades 9-12. 
Provost Academy is The UnVirtual Online School. They put the social into the virtual learning experience. They do so by providing many ways to socialize. They provide an online community where each student interacts in a live class on a regular basis. In these classes they can work on group projects, post on blogs and interact on a forum. 
Students can join clubs and organizations. Provost provides clubs such as History, Fashion, Books, The National Honor Society, and Fitness to name a few. Each club will plan activities, field trips, events, and projects. They even organize events and field trips, which is a great way to socialize face to face within the community. They plan dances, trips to libraries and museums. Plans are made based on the support of parents and students. 
Going to school online doesn't have to keep you from being social and building relationships. There are many ways to get social with your classmates, online and off. In an online atmosphere there are many ways to keep in touch. Social networking is a very popular option. When you become friends on Facebook or follow each other on Twitter you are able to stay connected, learn about each other and communicate often. Facebook communities and groups can be created and moderated by the school. In an offline atmosphere students could meet a few times a year doing random things such going to a park for a cookout or bowling. In the state of South Carolina they could have meetups at the beach or travel to North Carolina to the mountains. #MyUnVirtualSchool
How do you think an online school can become more social? I'd love to hear your ideas! Leave a comment and you will be entered into a contest to win an $100 Gift Card to Barnes and Noble. 
June 29, 2014 5:03 pm - No Comments
June 19, 2014 6:29 am - No Comments
As a photographer, I love looking a other photographers work for inspiration. I could spend hours sitting here browsing the internet looking though photos of various photographers. Here is a list of a few photographers that I really think you should check out.
What photographers inspire you?
June 18, 2014 11:18 am - No Comments
Its not that often that we get a kids free weekend. Here lately we have been getting at least one a month. The kids have so many friends and family members that they love to spend the weekend with. If it was up to them, every weekend would be kids free. I love having the kids around (unless they are fighting) so that wouldn't work with me.
As soon as we were kid free we went to Krispy Kreme, where I had two chocolate covered cream filled doughnuts and a small Iced Mocha. The we ended up at Ross' where I bought myself an outfit for under $20. Had an argument with DH about how Wal-Mart clothes are better. Seriously?!?! Apparently Ross' is not good for guys clothes but its great for women's. Most of my clothes comes from there. The rest come from thrift stores.
After that we ended up at Wal-Mart, because what kid free weekend would be complete without a trip or two to Wal-Mart? It never fails…We always end up there a time or two. So far, we've been three times.
After leaving Wal-mart we headed north to a club in Charlotte, NC. Since we don't really go to Charlotte that much we used the GPS which sent us through all the loops and interstates possible. It is very stressful every time we go to Charlotte. Getting lost is very easy! After a very stressful hour of riding we finally got to our destination. We stayed there for about three hours. I had only two beers.  On the way back we decided to try to follow signs instead of using the GPS. Turns out we only needed to use one interstate and it was a straight shot home. We know better next time!
On the way back we hit up Wal-Mart again for some snacks. Came home and watched "Devils Knot." Then we were in bed around 3am and slept til 1pm. A few hours after that we were at Wal-Mart again buying groceries for supper.
So, I checked on the kids today. They are having fun on their weekend away. Apparently Landun is having lots of fun trying to catch goats so that he can ride them. Not sure if he actually go to or not. Mikayla is having lots of fun with her friend whose birthday is this weekend.
Tonight is just a regular night of hanging around the house, on the computer or watching TV.
Can't wait to see the kids tomorrow! This place is too quiet!
Posted in: Life
April 30, 2014 9:52 am - No Comments
Over the past two days I have been obsessed with the weather. The weather man had forecasted lots of severe weather, which has not really happened yet. We did have a small storm that woke me at 2:30am. Of course I had to get out of bed and watch the radar til it was over.
I have not been able to sleep much last night due to stressing over whether the kids will be riding the bus in a storm or not. I am glad that as of right now it looks that it will be clear for them.
I have always had a fear of tornadoes. I have never seen or been in one and I hope to remain that way. Up until November 2011 I didn't think that they were possible in my area. Then a tornado touched down not even 15-20 miles from my house, killing 3 people and destroying homes. Lucky for me, I was in Charlotte, NC at a Taylor Swift concert. If I had been home, I'd probably would have had lots of panic attacks.
I love this time of the year, but I can't stand the storms. Even the smallest ones make me very nervous and paranoid. This problem use to be worse when I lived in a mobile home, where the roof is tin and you can hear every little drop of rain. The sound of heavy rain during a thunderstorm made me very dizzy, which didn't help out a bit. Now, a normal non stormy rain didn't bother me. My paranoia has eased up a bit since I have lived in a house for the past four years and can barely hear a thing but thunder.
I am hoping that we get through today without any severe weather.
Do you fear the weather when things get severe? If so, what helps to calm you down at those times?
April 29, 2014 9:59 pm - No Comments
Last Thursday Mikayla had her finial beginning band concert. I made sure to get some photos of her dressed up in her concert uniform before heading to the school. She hates the outfit that she has to wear, especially since it is a boys outfit. It was easier and cheaper to find that way. Now I can pass it down to her brother in a year or two.
She was very nervous before the concert as expected. The band played four songs and did very good at playing them.
April 27, 2014 10:43 pm - No Comments
I know I am about a week late on blogging about Easter, but here it goes.
We spent Easter at my parents as we do every year. We ate a lot of food, had the kids hunt eggs and our usual photo shoot with MawMaw. This year we had to take photos inside on my Mamas closed in porch (sun room?) because the grass was soaked for all the heavy rain we had gotten the day before.
Here are the photos of Mama with the girl grandkids and the boy grandkids. For some reason we never got around to taking one with all.